Hand-Painted Hebrew and
English Calligraphy
Pasukart is my unique creation of Torah artwork. I think of each piece as a visual meditation on a personal mantra, a single line of Tanakh (Torah, Prophets, Writings) that speaks to a person's essence.

discover your "name pasuk"
Pasuk is the Hebrew word for verse, and a name pasuk is a Biblical verse that begins with the first letter and ends with the last letter of a person's name, or otherwise contains the letters of a name.
Sonia travels to synagogues, schools and other communities to teach about this Kabbalistic tradition, and engage youth and adults – with a special focus on intergenerational groups- in choosing a meaningful name pasuk. She creates this sacred artwork, as well as ketubbot, baby blessings and other liturgical and ritual artwork for all life-cycle events.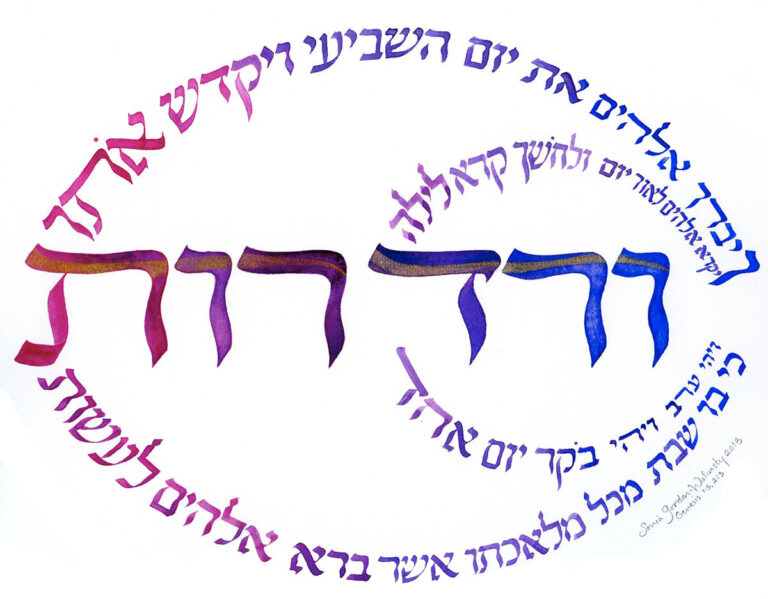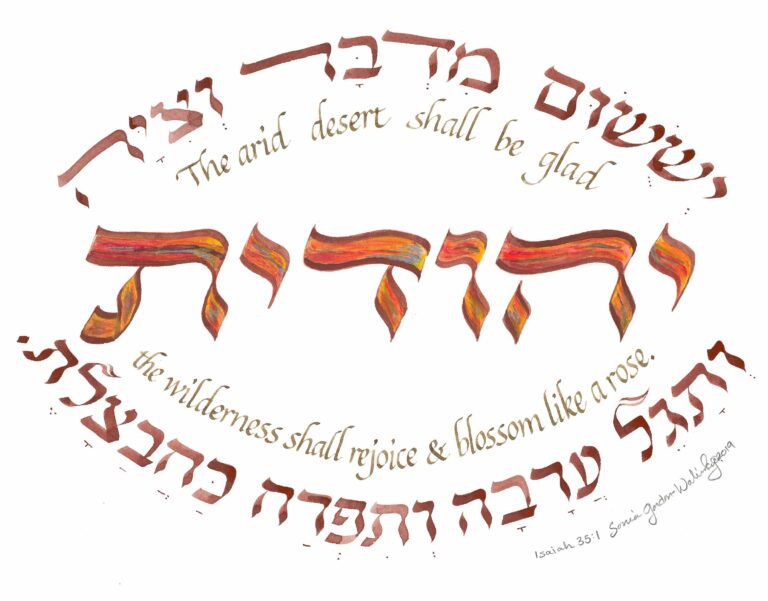 This beautifully hand-painted artwork inspires a personal connection to Torah
and greatly enriches all life-cycle experiences.

Commission a custom piece of artwork for a special baby naming gift, bar mitzvah gift, bat mitzvah gift, wedding or anniversary gift. PasukART is also a great way to honor your clergy, executive directors, presidents and other leadership and volunteers.
We had a very gala day today and your lovely art work was an important part of it…After my daughter chanted her haftorah I presented the pasuk as a symbol of how proud of her we are. She loved the piece, she understood how the verse related to her, and was anxious to hang it in her apartment, perhaps even tonight! Thank you so much for the collaboration, for the beautiful work, and for being apart of a wonderful day in our family's life.
Bliss/ Member, West End Synagogue NYC, NY
My parents were so pleased and touched by my gift to them. They really got the depth and spiritual dimension of such a gift. And, they were mesmerized by your craft and skill. Thank you again for such a precious gift and for lending your love and talent to the project.
Wanted to let you know that everyone loved your work, and I received many complements. Thanks again for making the naming even more special for our family.
sign up for our newsletter
Bring art into your inbox.
Commissioned Torah Artwork prices vary depending on size and time it takes to create each piece. All artwork is one-of-a-kind and made lovingly and with care on the highest quality archival paper and ink. 
Fine art (giclee) prints of select names are available in my shop for purchase.
Contact me to get a price quote for your PasukArt. 
pasukart by sonia gordon walinsky